Thanksgiving 2016
Thanksgiving is such a beautiful event! You have relatives who visit you to spend some valuable time and give thanks. Of course, it is also another excuse for us girls to dress up and look our best! While you might have the perfect outfit, shoes and makeup down, there is one thing that we quite often forget – our nails! Here are 5 easy Thanksgiving nail designs 2016!
Easy Thanksgiving Nail Designs 2016
Nail Designs For Short Nails
1. Turkey Tradition
If you are more on the traditional side but, like a little bit of funkiness then this is the perfect and easy Thanksgiving nail designs 2016 for you!
How to
Begin with a plain white base coat. Make sure it is well coated and not transparent.
Using a thin brush, paint three strokes of leaves in the traditional fall colors.
Choose one nail on which you are going to paint the turkey.
First draw the feathered tail, following the same method as you did for the leaves on the other nails. Use the same fall colors.
Draw two brown circles, one big – at the bottom and one small – over lapping at the top. This is the body of your turkey.
Using a dotting tool, draw two eyes and a beak!
Finish it off with a clear top coat!
2. Tad of Plaid
We all know how big a deal plaid is during this season! Fashion can change but plaid and thanksgiving just go hand in hand!
How to
Begin with a white base coat for the nails on which you are choosing to do the plaid design.
Start with the darkest color and paint thin stripes horizontally and vertically.
As you progress move on to lighter colors. In this particular design three colors have been used – Red, orange and brown.
Overlap the colors one on top of the other to give it the plaid effect.
You can paint the remaining nails solid colors and maybe even add a little glitter to them for effect!
3. Fall Ombre
For these Thanksgiving nail designs 2016, we are going with the ombre look. It is by far one of the favorites, and with the right instructions, there's no way you can go wrong!
How to
Once again we are going with the fall color palette.
Using a sponge begin with the darkest color on your palette, in this case it would be the red.
Since we have three colors on the palette – red, orange and yellow, divide it in such a way that each finger on the corner will be a solid color.
As you can see in the picture, the pinky finger is full red, while the ring finger has begun the ombre process, with a slight tinge of orange.
Continue the ombre process using a sponge to blend the colors.
For a more autumn look, add a few sticker leaves on top!
4. A Taste of Glitter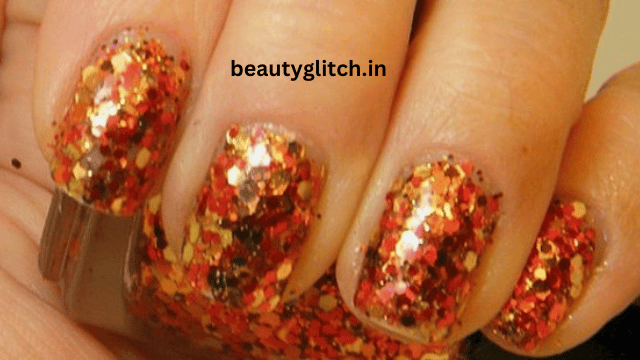 What is life without a little bit of glitter? I sometimes wonder if I'm in fact a clone of Kesha!
How to
Always begin with a base coat, and for this particular Thanksgiving nail designs, you can go crazy and be spontaneous. Mixing and matching is sometimes really good!
For the best glitter nail application, I suggest using a sponge for even coverage.
Three glitter colors have been used here to build up this look.
Begin with a gold base and add yellow glitter, red glitter and orange glitter to it!
Finish with a clear top coat and you're done!
5. Shimmer Rains
If you're looking for simple and elegant Thanksgiving nail designs 2016 then I have the perfect one for you!
How to
Begin with a brown base coat. Remember, while using a dark base coat, to protect your nails from getting stained by using a clear coat underneath.
While applying the glitter, for the rain/faded effect, start by dabbing a little glitter nail polish on the cuticles of your nails.
As you feel the brush beginning to dry pull the glitter downwards, towards the tips of your nails.
This will create a shimmery rain effect. You may need to apply a few more coats of glitter to get a stronger shimmer look.
Don't forget your top coat and you're done!
Acrylic Nail Designs
You could always run down to your nail saloon can get these acrylic nail designs that are easy and gorgeous! Especially for when you don't want to sport that short nails and prefer an elegant long nail look!
1. Shimmer and Nude
Shimmer Nails: Shimmer nails involve the application of nail polish or products containing reflective particles, resulting in a glittery or shimmery finish. These tiny particles add sparkle and elegance to your nails, making them perfect for special occasions and parties.
Nude Nails: Nude nails feature nail polish colors that closely match your natural skin tone or offer a neutral, understated hue. This classic and versatile nail style provides a clean, sophisticated look suitable for everyday wear, formal events, and conservative settings.
2. Glossy Autumn Leaves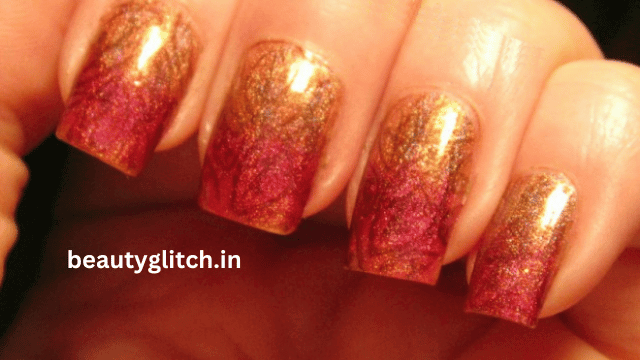 Glossy Autumn Leaves nails capture the essence of fall with rich, warm hues resembling the changing foliage. These short, elegant nails feature a high-gloss finish in shades of deep red, burnt orange, and golden yellow, bringing the beauty of the season to your fingertips.
3. Minimal Painted Leaves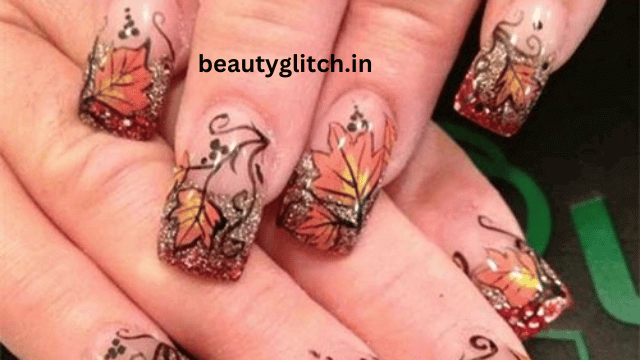 Minimal Painted Leaves is an artistic concept or design style that incorporates a simplified and restrained approach to depicting leaves through painting or other visual mediums. This approach typically involves using a limited color palette, reducing detail, and emphasizing basic shapes and forms to create a clean and minimalist aesthetic in leaf-themed artwork.
4. Almond Beauty
Almond Beauty typically refers to skincare or beauty products that contain almond-based ingredients, such as almond oil or almond extract. These products are known for their nourishing and moisturizing properties, making them popular choices for improving skin and hair health. Almond beauty products are often used to hydrate dry skin, reduce the appearance of fine lines and wrinkles, and promote a healthy, radiant complexion. Almonds are rich in vitamins, antioxidants, and essential fatty acids, making them a natural choice for those seeking to enhance their beauty and skincare routines.
5. Sun-Set Gloss
Sun-Set Gloss is a versatile beauty product designed to enhance your natural radiance. This high-quality gloss adds a sun-kissed, shimmering glow to your lips and skin, providing a dewy and luminous finish. With its easy application and long-lasting formula, Sun-Set Gloss is the perfect addition to your makeup routine, whether you're looking to achieve a subtle, beachy look or a bold, summery vibe. Enjoy the warmth and brilliance of a sunlit sunset all day long with Sun-Set Gloss.
Toe Nail Designs 2016
Your look would not be complete without you painting your toes are well! Here are a few color ideas!